Impact Technology buys, sells and ships used copiers & office equipment.
Family owned & operated since 2002, Impact Technology has had the privilege to work with thousands of national accounts and copier dealerships throughout the United States.
In addition to our core business, we provide value added services including data security, project coordination and nationwide transportation logistics.
Impact Technology has become a leading copier remarketer by consistently exceeding the expectations of dealers, leasing companies and exporters.
Our continued growth within the copier remarketing industry is a direct result of our ability to sustain high levels of customer satisfaction.
We always aim for the highest return on investment for both clients and customers.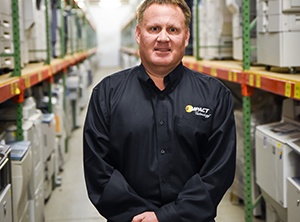 "Our mission is to grow with you
by providing mutually beneficial
products and services."
Randy Mechels, Founder & CEO