We Buy & Sell Used Sharp Copiers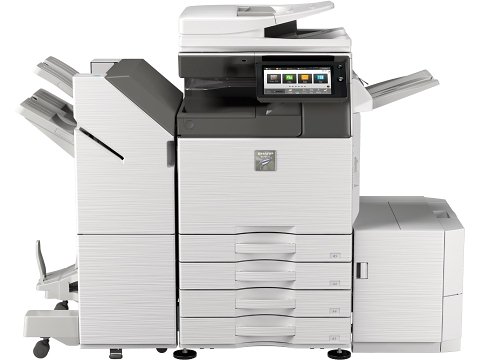 The Sharp Imager lineup of copiers has been around since 1972 and is the brand of copy machines that my original employer sold. The founder of Sharp might best be remembered for inventing the first mechanical pencil, but Sharp photocopiers have made a big impression on small and medium sized businesses around the world.
While once preferred mainly by domestic copier dealerships (within the United States), the Sharp copier brand has travelled well and is now a favorite of our export copier customers. Impact Technology buys and sells used Sharp copiers nationwide and is fortunate to serve the largest Sharp copier dealership in the United States. We provide pickup and delivery services using our own trucks and drivers– eliminating any possibility of freight claims. Our family-based business originated over 27 years ago and continues to provide an excellent selection of used Sharp copy machines. With over 6,000 copiers in stock inside our seven warehouses you can enjoy world class customer service and outstanding copier values.
Impact Technology – We Do Copiers! — That's our slogan but what it really means is we find ourselves "exchanging" copier inventory with copier dealerships. Impact Technology has many low-meter Sharp copy machines to choose from and this helps our dealers easily find recent models to purchase from us. At the same time, we purchase many of our dealer's competitive trade-up copiers and those that have been taken out of service. We buy used Sharp copiers at wholesale prices so our dealers can release unwanted inventory and free up limited space to buy copy machines that can make them money. It's really a simple concept, however as is true in every business, the secret to our success lies within our team of employees and our corporate culture. Customer service is lip service until proven otherwise, so give us a try and find out why 98% of our business comes from repeat customers.
Here's a documented fact and you can verify it with the National Better Business Bureau. Over the past decade we have purchased and sold over half a million used copiers without a single issue or complaint. As owner of our company I can safely say if your copier dealership is looking to buy or sell used Sharp copiers you have come to the right place. – Randy Mechels – Owner of Impact Technology